Welcome to the Virtual Book Tour for Shadow Play by Christie Palmer.  I really must start off this post by saying how much I enjoyed this book.  Let's face it.  The first book in the series is typically the hardest to read.  You are learning about new characters, world rules, and relationships.  Shadow Play was a fantastic beginning to a series.  To read my entire formal review you can go HERE.  Don't forget to check out the other stops on this tour by clicking the graphic below!
~Character Profile: Kyra~
Kyra is a strong female that knows she is kick ass and isn't afraid to pull or gun or front kick someone the hell out of her way. She will be your best friend, or your worst enemy. Hair Color:  Honey-Blonde Eye Color:  Blue Height:  5'7" Weight:  seriously??? Right Handed Favorite food:  Monkey Business (Belgium waffles, banana's, whip cream, caramel syrup) Favirote Color:  Black Worst trait: Jumping before looking Best trait: finding retribution for the innocent   Music Playlist Gasoline — The Airborne Toxic Event Sometime Around Midnight – The Airborne Toxic Event Half of Something Else – The Airborne Toxic Event All I Ever Wanted – The Airborne Toxic Event Everybody's Fool – Evanescence Again – Flyleaf Sex on Fire – Kings of Leon Pure – Lightning Seeds Time is Running Out – Muse Monster – Paramore Gunpowder and Lead – Miranda Lambert Meet Me Halfway – Black Eyed Peas   Favorite Movie Space Jam   Favorite Book: Kyra secretly loves historical romances. So anything historical romance she will read.   Secret fear? Terrified she won't be able to redeam the life and death of her mortal family.   Little known fact…Kyra loves cartoons especially Looney Toons, when everything else fails she has her cartoons to cheer her up. 
~About Shadow Play~
Shadow Play
Book 1 of the Tracker Series, Book 1 of the Others
 Christie Palmer
Genre: Urban Fantasy/Paranormal
Publisher: Jinx Fantasy Fiction LLC
ebook: 978-0-9885557-0-9
Paperback: 978-0-9885557-1-6
 Word Count:  375
 Cover Artist: Jaycee De Lorenzo of Sweet N' Spicy Designs


 A small town in the mountains of Marshall, Montana is being plagued by an unknown entity. It's mutilating and killing the women of the town. At his wits end the Sheriff of Marshall has nowhere to turn but to a friend. A friend, with the abilities to track and kill any prey.
Ryder doesn't normally do mortal issues. However, he can't turn his back on a friend. Besides he is the best at what he does. After all he is a Tracker, an ancient race with unparalleled abilities to track down any prey. With one of the three essential elements: Taste, Touch or Smell. Heartless and cold, Ryder knows what needs to be done and performs his duty without feeling.
Kyra, an Air Element and the only female Elemental Enforcer, is sent on a fact finding mission to Marshall, by the Druid Council. She needs to find out exactly what is happening in Montana before the Tribunal goes in and kills everyone.
The last thing she expects to find is a Tracker, and is even more surprised to find out that he is on her side. But can they get past their initial feelings upon meeting and the sexual tension? Or will the evil that is living in the mountain kill them both.
Ryder and Kyra must learn to work together to destroy the shadow and save Kyra from a fate worse than death. When pure evil is involved is love enough?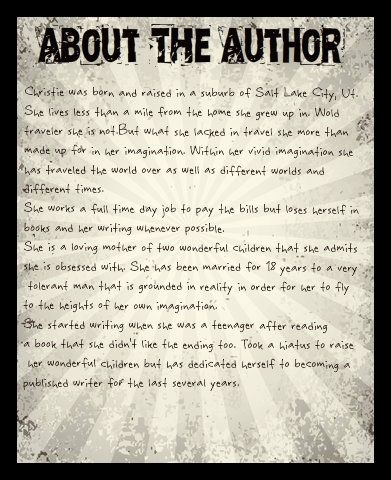 Website ∫Facebook ∫ Twitter  ∫Goodreads
~Tour Wide Giveaway~
Once Upon A Time water bottle
To Enter just use the Rafflecopter link below: