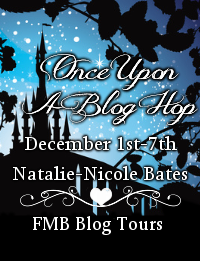 As a child I was unusual.  Shocking, I know.  I really didn't watch much TV and wasn't not into princesses.  I remember my mother buying me a pink pair of overalls when I was about 6 or 7.  Yes, I remember.  It was THAT traumatizing!  LOL I like more of the classic tales, with darkness and truth.  So for this blog hop I decided to talk about a recent book that read much like a grown-up fairy tale.   I really enjoyed this beautiful story and, to me, it read much like a fairy tale.
~Tab Bennett and the Inbetween~
Yesterday Tab Bennett was a bank teller. Today she's at the center of a centuries old war between Light and Dark. Tomorrow – well let's just say she'll be lucky if she lives to see it.
Engaged to her childhood sweetheart, employed at the local bank, and finally living on her own for the first time at twenty-four years-old, Tab Bennett has no interest in a fairy tale life. She's perfectly happy with the normal one she already has. But when her sister is murdered on a moon-dark night, revealing a world of power and magic she never dreamed existed, a fairy tale is exactly what her life becomes. Figures it would have to be the Grimm kind.
Just like that, the life she had planned is over. Instead of cashing checks and handing out lollipops, Tab is unraveling clandestine assassination plots and learning to wield the magic that is her birthright. And as if fulfilling her destiny isn't hard enough, she'll also have to choose between Robbin, a man who's turned out to be a lot more complicated than the proverbial boy next door, and Alexander, the handsome prince whose smile leaves her weak-kneed and weak-willed.
Now, while Tab struggles to hold on to the human world she's always known and understand her place in the magical one she's just discovered, dangerous forces are gathering close to home. If she wants to live to see happily ever after, she'll have to figure out who she can trust, who wants her dead, and why. The answers will change everything she believes about herself, the people she loves, and the place she calls home.
Currently Tab Bennett and the Inbetween is FREE!  The second Princess of Twilight and Dawn, Underneath is out soon.
~Giveaway Info~
I am giving away a $10.00 Amazon or B&N Gift Card and
Ebook Copy of Underneath upon book release or Inbetween
Entries:
1.  Comment Below and include your broken up email address
2.  Follow Booked & Loaded via Email (left sidebar under FB/TW feed)
3.  Follow via Facebook or Twitter (left sidebar)
~Tour Wide Giveaway Info~
$100.00 Gift Card
Just do #1 from above to enter
*B&L Giveaway is INT.  Ends December 7th, 2012 at 11:59 pm CST.
Winner will be contacted via email and has 72 hours to claim prize.
Don't forget to visit the other stops on this hop to enter more giveaways by clicking:
Thank you to Full Moon Bites for hosting this giveaway!  Go check them out by clicking the Tour graphic!