Please welcome Leanna Renee Heiber to Booked & Loaded for this Authors After Dark Author Spotlight!  Leanna Renee Heiber has just released the second installment of the Magic Most Foul series, The Twisted Tragedy of Miss Natalie Stewart.  As most of you know, I don't typically read YA.  However, after meeting Leanna Renee Heiber at the Authors After Dark 2012 convention in New Orleans and listening to her read an expert from Darker Still, I was captivated and HAD to read this series!  You can read my review of Darker Still: A Novel of Magic Most Foul HERE.  You can also watch a video of Leanna Renee Heiber reading the excerpt that captivated me by going HERE.
~Interview with Leanna Renee Heiber~
Annie: For those who have not yet had the 
pleasure of reading Darker Still: A Novel of Magic Most Foul can you sum it up?
Leanna: It's a Gothic, romantic thriller set in 1880 New York City following the brave, opinionated and self-possessed Miss Natalie Stewart, who despite her condition of Selective Mutism, must solve the a mystery of a beautiful haunted portrait that changes whenever she's around. Drawn into the center of a terrible dark magic experiment, she's the only one who can save the imprisoned soul of the handsome, charming and brilliant Lord Denbury, before a demon destroys them both. 
Annie:  In Darker Still Lord Denbury is
trapped in a painting.  What inspired this idea?
Leanna: I wanted to utilize an homage to The Picture of Dorain Gray, by Oscar Wilde, one of my favourite novels. The idea of a haunted or a changing painting has always fascinated me. But in my tale, the female characters are far more empowered and bold than the women portrayed in Dorian Gray.
Annie: In Darker Still the heroine, Natalie
Stewart, is mute. In what way did this challenge you as a writer?  
Leanna: In every way. I needed to understand more about selective mutism, to respect it and portray it realistically despite the paranormal circumstances, I needed to utilize Natalie's diary as a way of telling the story, which had it's difficulties when trying to create a narrative flow, but I've always loved the epistolary style, so while the writing timeline of action compared to Natalie's telling of it, the vibrancy of her as a character helped keep the story compelling and moving forward for me as I wrote. She had such a clear internal voice to me that I wanted to celebrate it. Just because she didn't talk doesn't mean she's not full of things to say, insights, dreams, and fierce intelligence. 
Annie:  What characters do you find the
easiest to write – the bad?  The good?  The severely strange??
Leanna: All have their own challenges, as each has to be dimensional and realistic in their own way, so there isn't really one that's easier than another, I must give them all their same due and attention. I try not to have preferences as they are all necessary for the story.
Annie:  Magic Most Foul takes place in a very
specific period and place.  What kind of research did you do and did the specificity of it make it easier or harder?
Leanna: The Magic Most Foul saga takes place in 1880 New York City and thankfully my background as a tour guide helped lay a lot of the historical framework and picture. Beyond that, I spot-checked things with a lot of time at the beautiful main NY Public Library building, the one with the lions, the map room there is a treasure!
Annie:  What new challenges did you face in
writing The Twisted Tragedy?
Leanna: Balancing the historical details with the plot, I had to do a lot of trimming. I had a bunch of tangents and I really had to hone in on Natalie and Denbury's core action and thread in details and setting more sparingly, getting them back to NYC more quickly.
Annie:   What new challenges is Natalie
Stewart going to face in The Twisted Tragedy?
Leanna: New nightmares, new foes. It's a somewhat darker book, more action packed, and some reviewers have already noted there's more of an "ick" factor involved as I deal with reanimation. As the first novel had a shout-out to one favourite 19th century novel in Dorian Gray, so does this one with a shout-out to Frankenstein. 
Annie:  I noticed that the fake Lord Denbury was nominated for the worst villain for Authors After Dark Bookie
Awards!  Congratulations!  What do you think the scariest aspect is it about the fake Denbury?
Leanna: Thank you! I think the fact that the Denbury doppelganger has rendered our hero helpless and out of control of
his own destiny, that's pretty scary. And the fact that it's the same visage as our dear and dashing hero, it makes it a bit more complicated and definitely more dangerous for Natalie.
Annie:  You are also nominated for Author of the Year, Reader Voted Star of Tomorrow, and Young Adult Novel of
the Year!!!  Congratulations and WOW!  What category are you most surprised to be nominated for?
Leanna: Thank you so much! I am so thrilled! I never go into contests or awards assuming I'll be nominated so I'm just honored by all of them!
Annie:  You a featured author for Authors After Dark Savannah Nights.  What are you most looking forward to experiencing while in Savannah?  
Leanna: Seeing my wonderful readers and getting a chance to tell them in person how much I appreciate them, spending time with beloved author friends and going on a Savannah ghost tour!!
Annie:  What other projects do you have in the works right now?
Leanna: The Eterna Files, a new Gaslamp Fantasy series set in 1882, releasing 2014 from Tor / Macmillan. A new quirky, character-driven Gaslamp Fantasy saga set in 1882 following a paranormal arms race for immortality between New York City and London. A huge cast of larger-than-life characters fight for hearth, home and the cure for death. Including but not limited to: mediums, chemists, healers, spies, uncanny detectives, royalty, magicians, sword-fighters, robber barons, mutants, psychic vampires, visionaries, prophets, excellent book-keepers, fearsome civil servants, covert operatives, unorthodox espionage, one poor skeptic and a circus. And that's just book one.
Annie: So I love music almost as much as books – I even have a special about 2 times a month called Music Mania Monday.  Do you think your characters have theme songs?
 What are they??
Leanna: Yes, Natalie and Jonathon's theme song is "I Will Follow You Into The Dark" by Deathcab for Cutie.  
Annie: If you could compare yourself to any fictional character who would that be?
Leanna: I'm a staunch Slytherin. I'm active in the Harry Potter fandom community and cosplay Narcissa Malfoy often. I love her very much, she's classy, fashionable and devoted to her family. In the end, as just a side character, she saves the entire day. But then in terms of being very passionate, headstrong and connected to a historical era, I'm very Anne of Green Gables. 
Annie: What childhood book influenced you most as an adult?
Leanna: The Complete Works of Edgar Allan Poe and The Lord of the Rings, later, reading Harry Potter got me back to writing again after a bit of a college hiatus.
Annie: What book are you currently reading?
Leanna: Research books for my upcoming series, currently a history of espionage and counter-terrorism in NYC.
Annie: If you were fighting zombies what would your weapon of choice be?
Leanna: A magic wand. You know, one that could do magic
  Leanna: Thanks for this interview, Annie! To you fabulous readers out there, I'm very active on various social media sites, I hope you'll follow me on Twitter @LeannaRenee , on FB  
http://facebook.com/lrhieber
 and excerpts, media, free reads, my blog and more can be accessed via 
http://leannareneehieber.com
Cheers and happy haunting!   It was a pleasure having you here!  Don't forget that you can meet Leanna Renee Heiber at Authors After Dark Savannah Nights August 15-18, 2013.  To learn more about it go to
http://www.authorsafterdark.org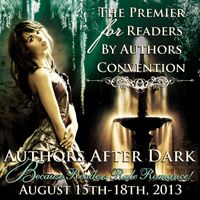 ~About The Twisted Tragedy of Miss Natalie Stewart~
Blurb:
For Natalie Stewart, a normal life has never seemed so far away. Her only solace, Lord Jonathan Denbury, is wanted for murder. To clear his name, Denbury must return to England and assume the role of his demon doppelganger. But Natalie begins to doubt his true motives, especially as a new gentleman begins whispering in her ear. Natalie and Denbury may be able to visit each other in their dreams, but they can't escape the darkening shadows. Amid spontaneous explosions, friends turned enemies and dangerous secrets revealed, there's still a demon who has Natalie's scent, and someone is trying to resurrect the ultimate evil.