Ever wonder what kind of research erotic authors do?  I know most of us do.
Booked & Loaded is proud to have Tilly Greene stop by and talk about what kind of research she does!  Please note that this is an ***18 AND OVER POST***
~Research for Erotica~
by Tilly Greene
There are many steps to writing a book, but research is my favorite.  Sometimes this particular phase will push the plot in a direction I hadn't anticipated and other times it solidifies the story even further.  The bulk of this stage happens before I write a word.  Everything I uncover and learn more about makes me eager to get started.
Now the question is, how does research change when it's for erotica and for me the answer is actually not all that much, well, other than the heat level.
First of all, research is just that, research.  I take a subject, item or idea and delve in until every aspect is known and then some.  There are often new avenues that are opened and explored, and can lead to threads in a story or not.
That's research, but where it changes for erotica is in the specifics and sticking them under a heat lamp then turning it up to 11 [yes, I know, that's a
This is Spinal Tap
movie reference, I couldn't help myself] for an amped up interpretation.
For instance,
Leather Bride
, which is to be released November 21st from
Ellora's Cave
, is a BDSM novella that has a leather fetish thread.  Even though this is a contemporary, there was a plethora of research needed.
New York City and the fashion world were ones I knew fairly well already, but the one area I wasn't as familiar with was fetishism.  Once I became comfortable with how far I could go it was time to pick various items I wanted to use.
Early on I was reminded how bondage equipment and sex toys can be rather clinical in appearance and how they worked.  That doesn't make them very interesting or enticing when used on the erotic literary stage which meant I needed to do some tinkering.  I took the devices I chose to use in the story, reworked them, added some scorching verbiage and voila, it's all new toys.  The heroine wears leather and plays with fabric both inside her body and out – yeah, fun kinky stuff.
In order to make these changes I needed to know how a dildo, anal plug and St. Andrews cross looked and worked as well as the type of pleasure they offered, and that takes research.  The hands on approach can sometimes be difficult to arrange, so a writer needs to be open minded to get the information needed.  This type of work can take place in person by holding the product in hand, through books or online.
Because this phase is so interesting, there's the potential to get carried away past necessity.  Writers' are a crafty lot and we can justify the need to know more very easily.  We need to understand everything about a particular subject in order to manipulate it without overstepping the known boundaries.  Don't get me wrong, we can stretch things but not too far beyond what's realistic or to the point where it would pull a reader away from the story.
My goal as a writer of erotica and erotic romances is to take all I've learned, bring some of it into the story untouched and other parts altered, add the heat to an exceptional level and do it all while entertaining the reader.  The objective may sound simple but it isn't if done right.
While traveling, Tilly Greene researches and writes erotica and erotic romance novels in a variety of genres and sub-genres.  Every day she looks forward to writing about women who are independent and confident, the men who love them, and their twisting passionate path to each other.
Tilly Greene
Scorching romances full of twists, turns and ties.
Facebook│Twitter│Hot Thoughts Blog│ARe Cafe
Tilly is also a featured author for Authors After Dark Savannah Nights.  To find out more about meeting Tilly Green and other erotic authors at this event click on the Authors After Dark graphic.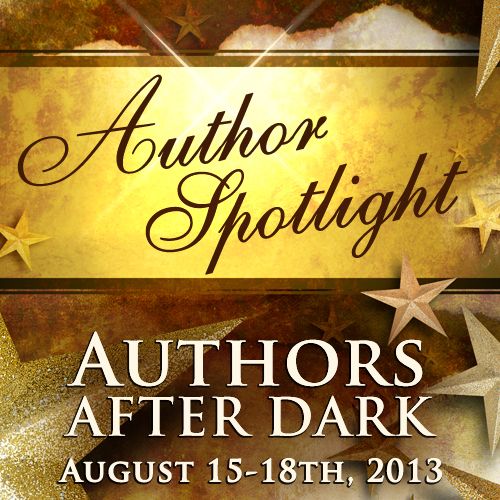 ******
~About Leather Bride~
LEATHER BRIDE by Tilly Greene Contemporary Erotic Romance + Fetish, Exhibitionism and Bondage
Published by
Ellora's Cave
Blurb:
There are two things on Mimi's mind—her lover Rick, and how he's finally given in and bound her. Everything is wonderful until a mysterious trip calls him away.
Mimi tries to back out of walking the runway at the Safe, Sane and Consensually Wild fashion show, where she and her lover were set to model leather goods. She's the muse behind the collection and the designer, her friend, won't hear of her not modeling.
A misunderstanding threatens to tear them apart, but a fashion show could bring Mimi and Rick closer together.
WARNING! Leather Bride has lots of sex and some of it involves leather and toys.
~Giveaway Info~
I am giving away one ebook copy of a Tilly Greene book.  WINNER CHOICE
Check her list of books on webiste: HERE
(if you would like Leather's Bride you will receive the book when it is released on November 21st 2012)
Tilly has a variety of different genres to choose from so check out her site, tell me in the post below which book you would like, and please put your broken up email addy so I may contact you if you win!
Extra Entries:
Like Tilly Greene's Facebook Page – 1 extra entry
Like Booked & Loaded's Facebook Page – 1 extra entry
follow Booked & Loaded via email – 2 extra entries (left side bar under the Twitter Feed – make sure to check your email to confirm your subscription)
*Must be 18 to enter.  The winner will be picked by using random.org and notified via email.  You have 7 days to claim your prize.  
*This giveaway will end on Saturday November 17, 2012 at 11:59 pm.  
Thank you Tilly for writing this fantastic guest post!